MANA KM-188 bread maker review
MANA KM-188 bread maker comes in a stylish stainless steel finish. The control panel comes with blue backlit LCD display. Goes perfect even at the bottom with the non-slip feet MANA KM-188 amuses the baking experience with an all new aroma, the easy to operate and easy handling makes it all the more outstanding.
Home made setting
MANA KM-188 has the facility of personalizing the baking process. The time requires for kneading, rise, baking and keeping warm can be programmed for each step which brings in the desired output.
Wtih safety on/off switch / Delay start up to 13 hours.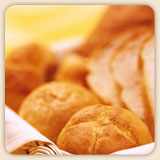 What goes special?
MANA KM-188 Bread Maker may be stated simple and convenient but never will it be thought to be this easy. As the only task required to be done, is to place all the ingredients in the non stick bread pan and set the programs. The breadmaker will automatically mix and knead to make the dough and bakes as per the program to get the loaf done in just 88 minutes.

12 Setting Choice
MANA KM-188 Breadmaker can bake 2 different loaf sizes which weights 1.5 lbs and 2 lbs loafs. The crust settings give 3 options of light, medium and dark crust setting. This appliance is also capable of making cake and jam. An overview of the programme times for the normal loaf size and the crust settings are for white bread it is 3 hours, rapid white bread it is 1.38 hours and the baking time for the whole meal is 3.40 hours.