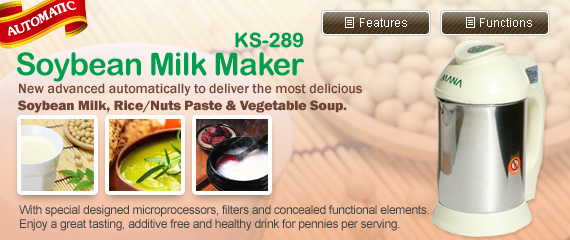 Automatic Operation

1. One touch fully automatic operation.
2. Heating, grinding, cooking extracting and stewing procedures are scheduled automatically.
3. Improved stewing technology for the best taste.
4 .Makes fresh soybean milk, porridge, rice paste, vegetable soup and other tasty creations in/about 15 minutes.


New Advanced Technology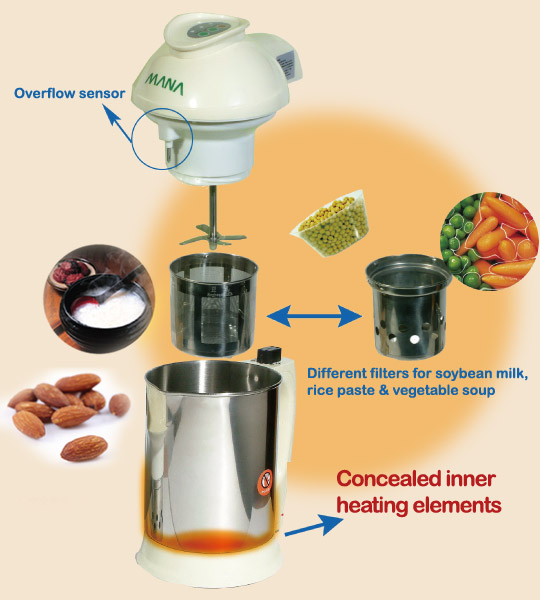 1. Helical grinding blade is capable of grinding dried beans and grains to a rich, smooth consistency.
2. Stainless steel cooking chamber, grinding blades and food baskets.
3. Precision perforated screens for increased flow rate and well balanced milk making.
4. Smart indicator light changes from red to green to indicate process is complete.
5. Unit heater is built into the stainless steel chamber for safety and easy cleaning. No exposed heating coil to burn you or clean.
Features
1. Microprocessor control preprogrammed functions for soybean milk, rice paste and soup gives perfect results every time.
2. Temperature controlled cooking cycle for perfect results every time.
3. Elegant styling and compact size adapts to any kitchen decor.
4. Enjoy a great tasting, additive free and healthy drink for pennies per serving.
5. Included recipes for basic soymilks, traditional Chinese recipes, seed milks and nut milks.
6. Easy to clean with concealed inner heating elements, comes complete with a cleaning brush and cleaning pad for added convenience.


Security
1. The advanced features prevent overflow, dry heating, control the temperature to prevent burning the contents and doesn't allow the blade to spin if outside the boiling chamber to ensure safe and reliable operation.
2. Detachable power cord.
3. Operation-friendly with light indicators and beep sound alert.